"I am a very satisfied customer. Gary is very dependable, thorough, and determined that his customers are 100% satisfied. No matter what the challenge, Salem Computer Doctors will find a cure for your computer."
Bonnie Crotts
Salem

"When my computer needed a repair recently, I called Gary on my son's recommendation and was surprised to learn that he would come to my house to do the necessary repairs. He was really interested in fixing my problem, and stuck with it until it was fixed. The biggest surprise, however, came at payment time. It is very obvious that his main interest is to make sure the computer is repaired properly, and not charge 3 times as much as he should. It is also obvious that he is very knowledgeable about computers.
I would recommend his services to anyone."
Ruby Cockran
Vinton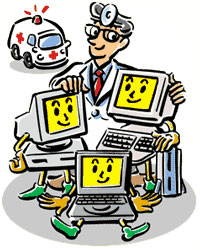 "Thanks for the excellent job you did fixing my computer. It was really dragging, and I dreaded the thought of having to unplug everything and drag it to a repair shop. I was relieved to find that you made house calls without charging exorbitant rates. I was impressed with the fact that you came over promptly, took your time to fix it properly, and answered my questions. It hasn't run this good since the day I bought it! Price was right, too. I guess you don't have a fleet of VW's to pay for, huh? Please feel free to use me as a reference for your superlative services.
My highest recommendation!"
Richard Jennings
Roanoke
"You saved my sanity (and my emails)!!!
I can't thank you enough for coming to my aid when I was about to take this computer and toss it out of the window. With one call you were at my door, black bag in hand, and giving my computer a much needed "physical". What seemed to me to be a problem too large to tackle, you very efficiently and confidently worked to the source. Within a short span of time you had me up and running. You not only restored my computer and it's programs, you restored my comfort to use this high tech device. I appreciate your prompt arrival, and also putting the information that you had to relay in layman's terms. I thank you from the bottom of my heart for your knowledge, skill, and kindness in my hour of need. I'll make sure that your business card finds it's way to other needy clients like myself.
THANK YOU!!"
Barbara Cummings
Salem

* REMOTE SERVICE NEW!!
Some problems can now actually be fixed via an internet link between your computer and our server! Call or email for details on this NEW special service - offered at no extra charge!

* PICKUP AND DELIVERY SERVICE
For your convenience, we will pickup your computer from your home or office and return it around your schedule.

* FREE Evaluation means FREE!
We will find the problem at no charge and give you an estimate of charges for the repair.

* AFFORDABLE Service at your Home or Office.
You'll find our rates significantly lower than the big computer stores.

* OUR "FIXED OR FREE" GUARANTEE
If we can't fix your computer, you owe nothing! Period!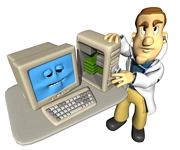 Computer Repair & Maintenance
Virus / Spyware Removal
Network Installation & Maintenance
Data Recovery
Backup Solutions
Operating System Install / Upgrade
New Computers custom-built to your specifications
Websites / Weblogs ("Blogs")

ETDBW (Easy To Do Business With)